"Up" is an animated feature film from Disney's Pixar studios, but don't let that fool you into thinking it's a children's movie. This film offers storytelling at its best, with a central character whose emotions are as real and as raw as those on the face of any A-list movie star. Children will like it too, with its cute-but-klutzy little boy scout eager to earn his"assisting the elderly" badge and its cheerful, eager-to-please dog Dug. But the real star of the show is Carl (voiced by Ed Asner), a curmudgeonly old man who just wants to be left alone so he can grieve away the rest of his life with his only company, the memories of his beloved wife, Ellie.
Ellie's presence fills the screen, even though she leaves it ten minutes into the film. Carl and Ellie are childhood sweethearts who met through a common love of adventure. Ellie is the leader of the two, a perky tomboy who plans to fill her adventure book with "Stuff I'm Going to Do." Like many newlyweds, Carl and Ellie promise each other that they will dream big, explore the world, and have lifelong adventures. And, like many married couples, they find that life intervenes to cut short their dreams. Savings intended for travel must be used for car repairs, medical bills, and living expenses, and the pages of the adventure book remain blank. The montage in which all of this happens lasts only ten minutes, but it is extremely moving, especially for those on the downhill side of dreaming.
When well-intentioned social workers decide that Carl is no longer capable of caring for himself and condemn him to a retirement home, he decides to escape, lifting his house into the air on the power of thousands of helium-filled balloons. This is where the film itself begins to soar. Carl has the adventure of a lifetime as he tries to fulfill Ellie's dream of living in a house at the top of Paradise Falls in South America. The story has enough cute talking animals, menacing bad guys, clever antics, and that sweet klutzy boy scout to please the kids in the audience, but it is meaty enough to satisfy the adults who came with them.
Eventually the balloons start to lose their air, and the house drops precariously close to the ground several miles short of the destination. Carl, determined to settle the house exactly where Ellie wanted it, begins pulling it along the ground toward Paradise Falls. Metaphorically the message is clear: like many of us, Carl has carried his house around on his back for his whole life, and it has kept him from soaring to greater adventures. In "Walden," Thoreau warned that a modern American will "have spent more than half his life before his wigwam will be earned Houses are such unwieldy property that we are often imprisoned rather than housed in them." Indeed, as we are discovering in this current economy, many have become overburdened by mortgages, figuratively carrying their houses around on their backs, first to keep up with the Joneses and now to keep ahead of foreclosure.
Ellie's Adventure Book with its "Stuff I'm Going to Do" is also remarkably poignant for an animated film, reminding us that we need to dream, but we also need to modify the dream when newer dreams come along. The film is sad at first, but in the end it is as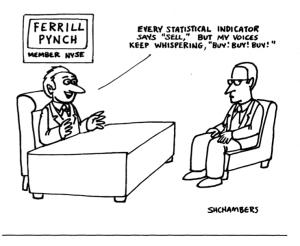 buoyant as the balloons that carry Carl forward to the next greatest adventure of his life. He reminds me of my stepfather, who thought his life had ended at the age of 75 when his wife of more than 50 years died. He had one foot in the old folks' home when he met my mother, and the real adventure began. In the 22 years they were married, they traveled to Mexico, Europe, South America, the Caribbean, and Canada. They toured 49 of the 50 United States, pulling a trailer and camping along the way. Once they made a wrong turn on the New Jersey Turnpike, went through
the Lincoln Tunnel, and ended up pulling their trailer through Times Square. That must have been quite a sight for the tourists – not unlike Carl's little house being transported by helium-filled balloons.
It wasn't Paradise Falls, but for Mom and Wally it was paradise, and not at all what Wally thought his final quarter-century would be. I think another Wally – Walt Disney – would be very pleased to see the heights to which Pixar has taken his studio with this humorous, intelligent, witty, and thought-provoking film.